Quality Control
Strict production quality control system view
LED lighting is a high precision products. It's unbelievable that a number of manufacturers make it on very simple production line. All processing steps in our production system are strongly strict and important. And we have a full set of equipment for production and quality control. That's why our rejects down to 0.0001%. Just see the rough description for Ryker Lighting LED strip lighting production.

1. Die bonding



Process of attaching the LED chip to the contact pad of the lead frame in the package.
We use red copper frame and Epistar LED chip, In the market most low price LED strip suppliers use iron bracket to save the cost. The iron bracket will be oxidated slowly, which will make the lamp bead not working.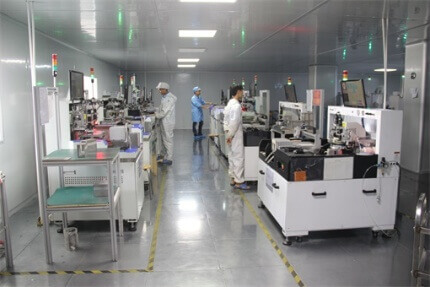 2. Wire bonding



Processes of the LED packaging which provides electrical interconnection between the LED chip and lead frame
We use industrial gold, which is 99.9999% pure, as gold is a good conductor, strong and do not rust easily, this ensure a long lifespan of the connection.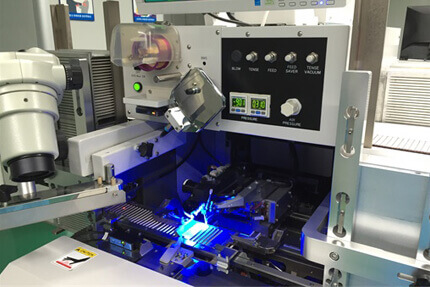 3. Light color matching





Once the circuit and chip have been placed, we'll add phosphor coating for different CCT request, the amount of phosphor will directly determine light color of LED. Our engineer will inspect if the light color match production requirements before mass production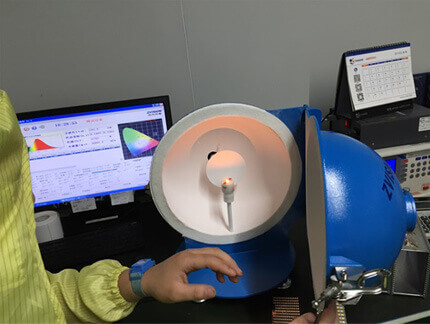 4. phosphor coating and encapsulation





Once color matching inspection completed according to production required CCT, we begin phosphor coating on all the LED. After that a protective layer of glue is added, this glue prevent further wanted substance to enter into LED. LED chemical mixture also ensure no UV will damage the LED, to ensure longer lifespan when it's used outdoors, where it will be under constant and long exposure to the UV.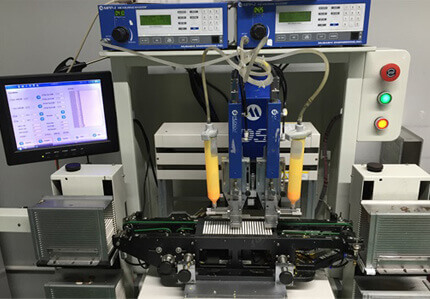 5. Baking



Once added the glue, all the LED will go through oven backing.
First, Baking LED under temperature 80℃ for two hours to ensure protective layer quickly formed on LED to prevent other substance enter into.Second, Baking LED under 150℃ to ensure LED more stable and shape up.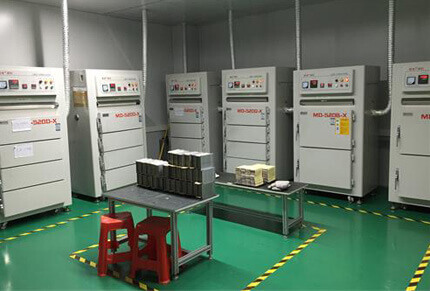 6. Spectrophotometer
All the completed LED will be tested in a LED sorting machine. The LED will be tested in current, voltage, color(in terms of wavelength). According to the expected data, the LED will be sorted into different groups. All the LED that falls outside given perimeter will be taken out by the machine. According to different specifications of the LED, it will be labeled and recorded.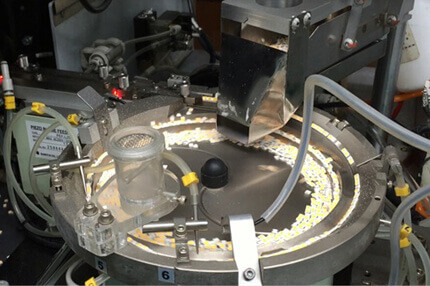 7. Seal up
All the LED will be sealed in air tight bag and put into our stock.
If stock the LED for over 3 months, all lamp beads will be put in oven for 4hour baking again under 80℃.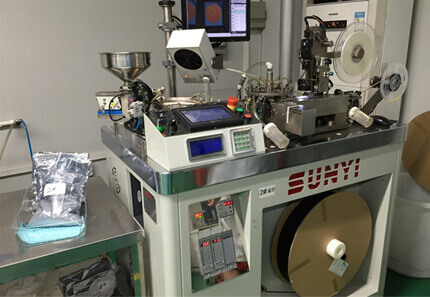 8. SMT process
Producing electronic circuits in which the LED are mounted or placed directly onto the surface of printed circuit boards (PCBs). We use Double sided PCB: Both sides have circuit design. It's the thickest PCB with best heat sink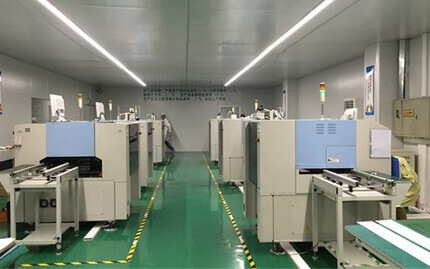 9. Reflow soldering





Process in which a solder paste is used to attach LED to PCB board, after which the entire assembly is subjected to controlled heat, which melts the solder, permanently connecting the joint.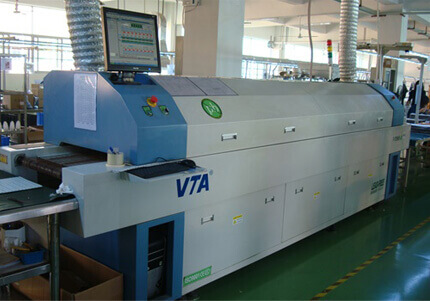 10. Quality control





Our QC dept inspect 100% of the ribbon to ensure there are no defect LED and color shift LED.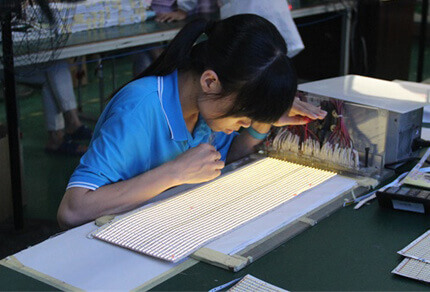 11. Soldering
All the 0.5M PCB will be manually soldered to 5M long strip with cable.We can do customized length on customer request.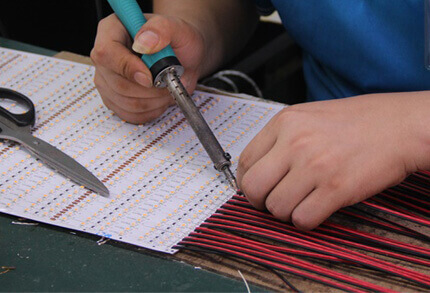 12. Clean
Once soldering completed, the strip PCB will be cleaned by alcohol.
13. Life testing
All the semi-finished strip will proceed continuous life testing 8 hours, to ensure each LED runs in good condition.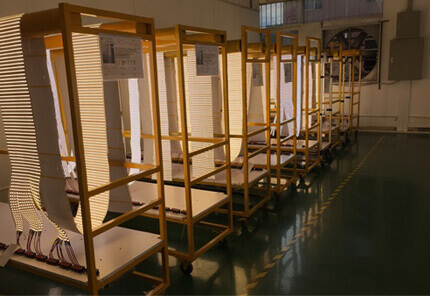 14. Silicon glue
We use silicon glue on all the waterproof strip:IP65(silicon sleeved), IP68(encapsulate silicon sleeved), The silicon glue can resist high and low temperature.(- 50 to 300 degrees), with good heat sink and less prone to be hardening and yellowing.
Some supplier use PU glue and epoxy resin, it's not stable and with bad smell, easy turn to yellow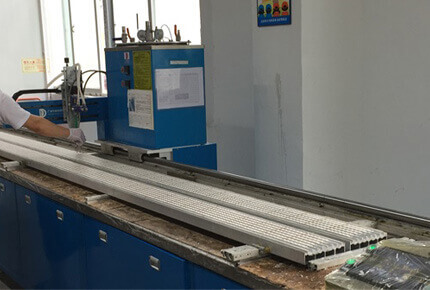 15. Life testing





Once silicon glue finished, all strip will go will go under another 8 hours life testing.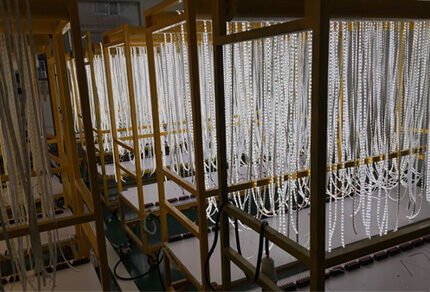 16. 3M tape
All our IP20/IP65/IP68 strip will be pasted with 3M tape, to ensure easy installation for end customer.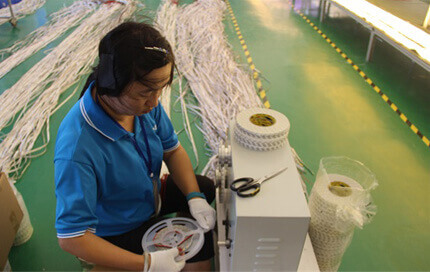 17. Final quality control
Our QC dept will perform visual check on every strip reel, to ensure consistent light color of the strip, as well as good appearance.